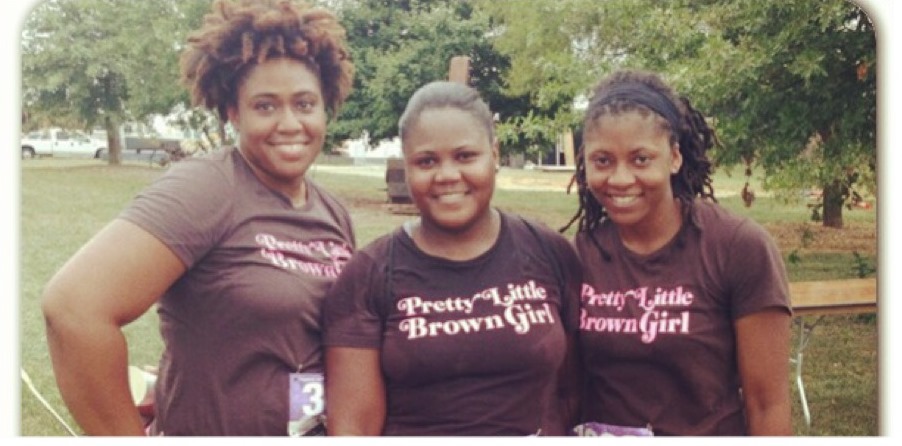 The Power of Sister-girl Love
June 12, 2015
Next to the calories I burn, sister-girl love is undoubtedly the best part of my occasional walk/runs across the Woodrow Wilson Bridge.  Most other people avoid eye contact as they tackle their work outs – and I don't blame them.  I am often writing something in my head that will never make it to paper, or silently singing along to the song blasting through my headphones, or wondering whether running has always felt a little like dying, or contemplating what kind of future any black babies I birth might have in this world, or cursing the fact that I inherited my father's sweat glands, or begging God to guide me through this thing called life, and so on…
And as my brain runs at a pace my body could never maintain, I repeatedly cross paths with black women who not only lock eyes with me, but nod or smile their encouragement.
It is like our own secret language.  Within just a couple seconds, our gazes and grimaces-turned-partial-grins say: 'Get it, girl.  I see you, suited up, head scarf on in a feeble attempt to preserve that wrap, walking when running is too much, jogging when your spirit catches a breeze, taking it one step at a time, doing what the world claims we never do. Do you, keep going.'
While I have this silent conversation with the majority of black women I pass on the concrete path 70 feet above the Potomac, the sister-girl love is not shown by all.  Some are caught up in their own thoughts like me, but so much so that they never bother to look my way.  Some have their eyes trained on the ground, visibly counting each step and how much further they have to the finish line.  Some seem a little timid and self-conscious of their public physical struggle.  And others simply don't want to be bothered.
Yet what I wish I could make clear to all the black women working it out on the Woodrow Wilson Bridge, particularly those who avoid eye contact, is the power of our secret language.  It is a push to keep going when the going gets tough.  It keeps me putting one foot in front of the other; sometimes my legs are dragging just as pitifully as they were the moment before our eyes met and other times I discover a new lightness to my step, but either way, I continue on, grateful that I am not alone.  Last week I practically floated off the bridge in a wonderful mood; part of it was the endorphins, but most of it was the light of black women's smiles and unspoken encouragement.
Unfortunately, I have not worked out at all this week, during a time when I could most use some sister-girl love.  I have regretted it each day, but I have gotten trapped in my head for various reasons and have only chosen to claw myself out to handle life's bare necessities.
One of the things dominating my brain space this week was the video of a police officer body slamming bikini-clad 15-year-old Dajerria Becton outside of a McKinney, Texas, pool party.  I was hurt that it happened and not sure what infuriated me more – so many people's silence on the matter or so many others' justification of it.
I have heard much talk regarding who has not bothered to speak up for Dajerria.  Black women may find ourselves wondering whether some people ever considered women and girls to be among the black lives that matter.  We may also find ourselves frustrated by the lack of response from feminist groups who should object to the manhandling of a young girl.  We may be annoyed that some people only want to address this incident from the standpoint of ensuring it does not spread to "other" girls, as if the one girl it did happen to is alone unworthy of all of our righteous anger.  We may feel as if black women, in general, are rarely viewed as worthy of protection or attention or gentleness or kind words.  And it will hurt.  It will make us wonder what we have to tell young black girls about their value in this world, and even what we can tell older black women fighting to regain a semblance of the optimism and excitement of their youth.
I don't know what words and actions will affirm young black girls growing up in a haughty, deceptively post-racial society, or what will be the salve for black women's age-old wounds that are consistently ripped open again and again before they can ever begin to heal.  But perhaps we can remind ourselves of the sister-girl love – that language, whether spoken or nonverbal, that reminds us that 'black girls rock' and 'black girls are magic' and any other positive phrase people have the nerve to be more outraged by than our mistreatment.  We can tell each other to lift up our downcast eyes and see the warmth in the faces of our sisters, to recognize the community among a group of women who know the struggles and joys of our unique journey, to realize the undeniable strength we display merely by surviving, let alone thriving.  We can show one another that as much as we are weighed down by the pain, sweat, and tears of life, there is a soul-lifting light in the eyes of our sisters.  We can remind ourselves that with God and each other, we are not alone.  For when we have taken the time to spread our sister-girl love, the endorphins will kick in.  And together, we will run on.