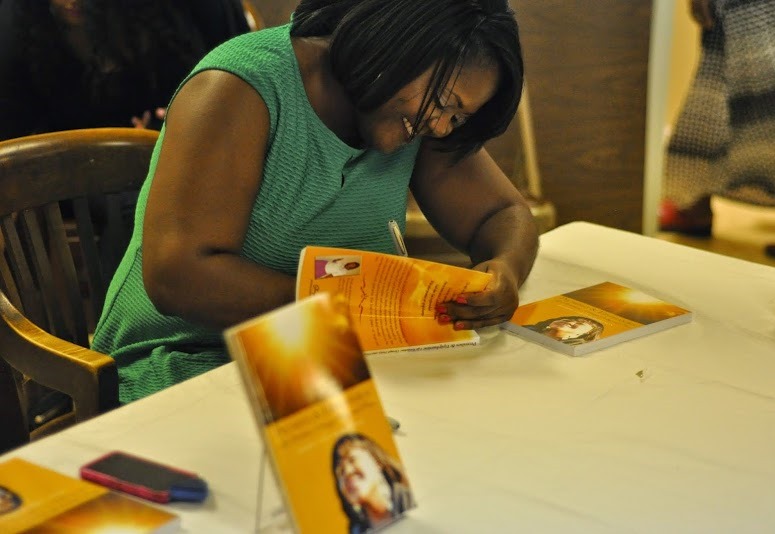 Book Signing Re-Cap & Photos
June 17, 2014
I unveiled the book to the world – or my little corner of it – on June 8th.  It was an awesome and humbling experience.  I'm grateful to those who came to support me, as well as those who were there in spirit.  It felt like a room full of love and lyrics.  Who could ask for anything more?
Thank Yous
Many thanks to Darriel Harris, my photographer for the day.  Hopefully the pics below will make you feel like you were there 😉
Also, many have complimented the book's cover photo.  Shout out to Ivanna Goldsberry, who took that picture and all those on this web site.  Thank you also to Shavalyea Gilbert, my graphic and web designer, as well as to Carol Scheina, my editor, and Kiersten Walker, my event planner.
I know this is a pretty strange thing for a writer to say, but words cannot express how much I appreciate the love and support everyone has shown.  Thank you!!!!!!!!!
How to Get the Book
Finally, people are still asking how to get the book, Promises & Epiphanies: Life Revolutions Through Poetry and Prose.  It's now available on Amazon, and there is also a Kindle edition.  (Reviews are welcome and appreciated!)  You can also purchase a copy from me when/if you see me.
XOXO,
SheryLeigh
This slideshow requires JavaScript.