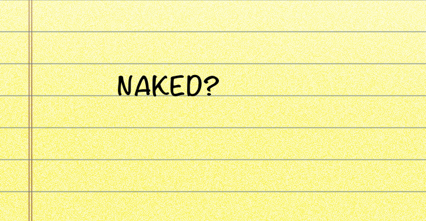 Writer Problems: Getting Naked on the Page
August 7, 2014
"It's so hard to get naked on the page…. You must be naked. You must understand that clothes are the illusion, and your readers are naked too. Humans are at war with themselves. Once you can accept this, your own wars become less shameful. I don't mean exhibitionism. I mean honesty. The clothes are the illusion."  ~Ta-Nehisi Coates
I blogged that publishing my first book was a leap of faith.  However, rather than jumping right into the deep end, I started at the opposite end of the pool, cautiously wading into the unknown with every piece I wrote.
What I did not tell you was that the hardest part of my plunge was the fact that I was skinny-dipping.
When people talk to me about parts of the book, most comment on how transparent I was.  The book chronicles my thoughts and feelings over the years, with references – occasionally specific and sometimes vague – to the experiences and people that inspired them.
The book is me, naked, on 188 pages.  I thought it would bother me to stand before readers unclothed.  It does, but not in the way I expected.  I often call myself a crazy, overthinking, over-feeling romantic, but I have always had the sneaky suspicion that I am not alone.  And each time I bare my soul through words, someone confirms that they know how I feel.  As Coates said, my nakedness gives them the courage to strip their own facade.  So we can stand before one another, lumps, bumps and scars exposed, without shame.
What I have found more difficult than this public nudity is being naked in intimate settings.  Can the people close to me deal with my nakedness?  After performing a couple of love poems in front of my parents, I questioned if they wondered, "who hurt you?"  When I have conversations with friends, about any and everything, sometimes my mind takes a random left turn and wonders if they see me differently after reading the book.  And wait – did So-and-So look at me a little too long when she asked how I was doing?
Yet it is private nudity that is the worst.  I have been living alone for over a decade now.  People say one of the perks of solo living is the ability to walk around your home naked.  I am not one of those people.  I love booty shorts as much as the next girl, but I don't do nakedness.  I don't hate my body, but I don't love it, either.  And even in those times when I have thought it especially fine, I have avoided nakedness because it makes me feel cold and unnecessarily exposed.
Seeing my naked self in the pages of my book has made my emotions unpredictable.  Editing the book was a continuous walk down memory lane.  That walk continued through the publishing process and is still occurring today.  I see me, naked and far from flawless.   I see my mistakes, behavioral patterns, fears, and insecurities – and I am forced to relive the feelings associated with them.
I guess I thought that writing the book meant I was washing myself of negative things from the past.  But I have come to realize that there are some thoughts, feelings, and experiences that you may have to conquer again and again.  Writing the book was a lot of emotional work.  That work does not end simply because the book is published.  There is a continuous process of self-realization, self-acceptance, and self-improvement.  I will consistently have to overcome my fear of getting naked on the page, continuously reliving the surprising liberation it brings.  I am better than I was, but each day I have to make a conscious decision to become even better.
Try as I might to make this all about my discomfort, God constantly reminds me that most things are not about me.  I don't have to get naked on the page every day or regarding every aspect of my life.  However, my nakedness, when used properly, can touch hearts and influence lives.  Each time I strip down to nothing but soul and spirit, I give someone else permission to do the same.  It is then, in our as our honest, vulnerable selves, that we are most beautiful.