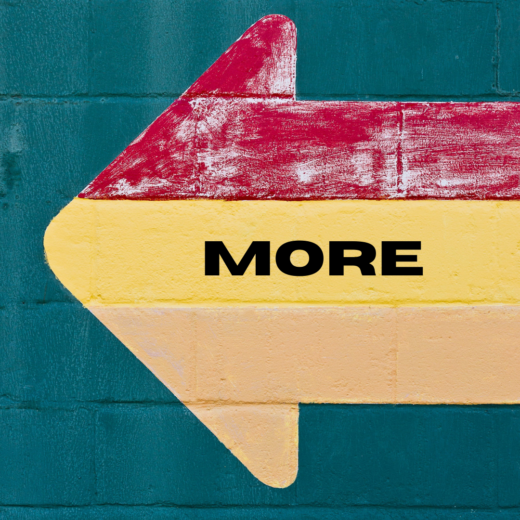 There's More
August 18, 2021
The other day as I was walking through my new favorite park, I stumbled upon something unexpected: more.
I had only been to the park about a dozen times, but up until that moment, I was certain that I had seen all of it. I had walked the full length of the trail that snaked along the river and discovered that it was bound by a highway on one end and a recreation center on the other. The rec center side had a few benches overlooking the water, a nice place to pause before turning around and heading back.
Or apparently, a good point to keep going.
As I approached one "end" of the park the other day, there was a woman emerging from the wooded area next to it. On the previous times I walked or ran there, I had seen the rec center, the parking lot, the benches overlooking the water—but not once had I noticed that the trail continued.
If that woman had not come by at that moment, I don't know how long it would have taken me to realize that there was more to the path. Maybe the first time I walked the trail, I overlooked its extension because I assumed I knew what was over there, or perhaps its entrance was hidden by shrubbery, or maybe I was just in a hurry to get home. But every time thereafter, I didn't even bother to look in that direction because I just knew it was the end.
I was quite pleased to discover the rest of the path. It gives me the ability to vary my distance when I'm exercising, it reveals a few other trails further off the beaten path, and it leads to a clearing that offers the park's least obstructed view of the river. All the aspects of "more" I had no idea I was missing.
When I realized there was more to the park, I laughed at myself because it seemed so obvious. How could I have not seen it?
I also chuckled because I have been guilty of skeptically eyeing a particular Scripture: "Now to him who is able to do immeasurably more than all we ask or imagine, according to his power that is at work within us…" (Ephesians 3:20, emphasis added)
It sounds good, but my imagination has been on overdrive since childhood. I map out intricate scenarios and write beautiful scenes in my head, and sometimes I dare to ask God to make them come true. So, I've often wondered, can God really do more than I can ask or think?
When that hidden path was revealed, I knew I wasn't just laughing at myself—God was laughing at me, too. I'm sure He said, "Girl, you can't even spot the more right in front of your face." Touché.
Who knows, I may be the first person to wrongly assume they reached the end of the park. But one thing's for certain: I'm not the only person to mistake a moment in life for the end.
We've all been guilty of placing limits around how far we can go or what paths we can take. We think we've reached the end of our potential, our career, our dream, our faith, or maybe even the end of our rope. We think we've seen all there is to see, achieved all there is to accomplish, and experienced all that this life has to offer us. But then God sends someone or something to cause us to take another look, to help us to realize that there is, indeed, more.
Today I'm that person. Appearing seemingly out of nowhere, assuring you that as long as you're breathing, there is always the potential for more. Just around the river bend. On the other side of your fear. Around the corner from your limited expectations. More joy, more peace, more love, more provision. More healing, more adventure, more rest, more purpose. More people, more opportunities, more grace, more forgiveness, more chances to get it right. More of all you've ever dreamed. More than you can ask or think, just waiting for you to discover it.