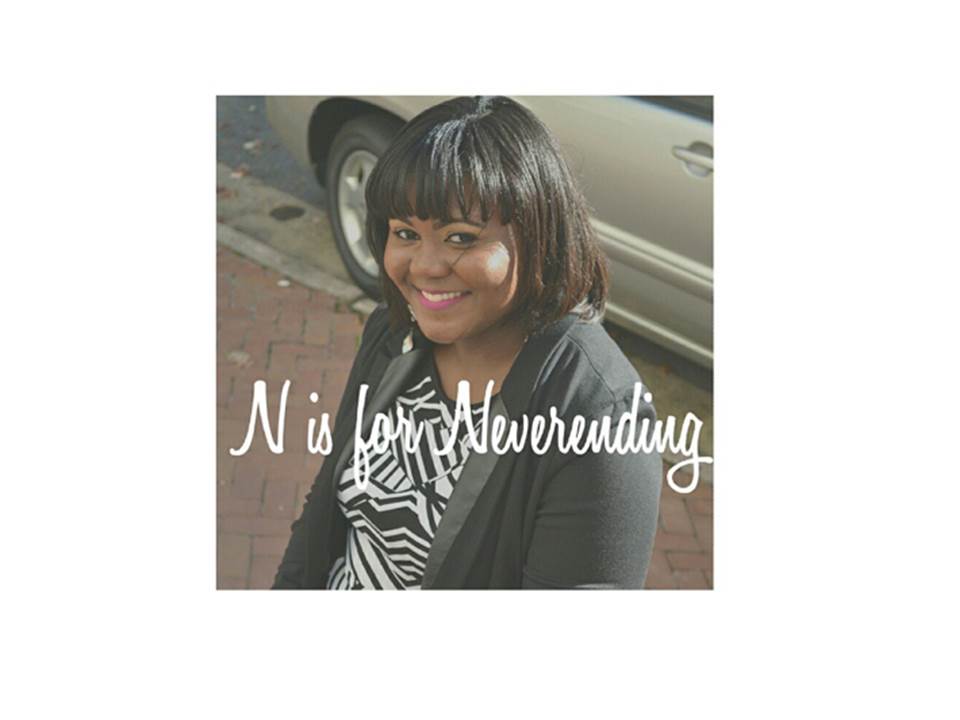 Self-Discovery Tour: N is for Never-ending
October 19, 2014
On the eve of my 30th birthday, I knew myself better than I had at any other point in life.  I was secure in who I was, digging the way I looked inside and out, and confident about the decade ahead.
Then 30 arrived, a gentle breeze tickling my insecurities and scattering my sensibilities.  As the year wore on, it grew into a roaring wind, carrying off all the self-assuredness I had boasted just months before and leaving my life littered with questions.  Disheveled and confused, I wondered whether I knew myself at all.
I now realize that self-awareness is fluid.  While I did know myself, there were some things I had forgotten and needed to relearn.  There were also a few wounds I had not allowed to properly heal.  There were things I thought I conquered, that I realized I had never even confronted.  There were lessons I thought I learned that apparently did not stick the first time around.  And for those times when I had let sleeping dogs lie, it became clear that, sometimes, they wake up.
I also realized there were dimensions of myself that I had yet to uncover.  I began to see the wrong in things I once downplayed as 'just the way that I am.' I came to recognize some deep-rooted fears and faulty beliefs.  I learned that I pack a mean punch when defending myself, but that occasionally I swing unnecessarily.  I began to see contradictions that needed to be reconciled.
If, like me, you are not expecting such realizations, they will set you back. You will mistake them for failures when they are actually accomplishments, evidence that you have reached higher heights of self-awareness.  Each time you uncover something about yourself that is less than flattering, it is simply an opportunity to embark on a journey of self-improvement.
Also, sometimes we are so fixated on the unfavorable discoveries that we fail to recognize that some of the things we learn about ourselves are positive and downright beautiful.  Since turning 30, I have unearthed new talents and gifts.  I have taken a strong liking to certain previously ignored physical attributes, and some formerly scorned ones as well.  I have dreamt new and exciting dreams.  I have found myself to be strong in areas in which I was once incredibly weak.  I have learned that my capacities to love and forgive and encourage and believe are greater than I imagined.  I have realized that some things I wanted are no longer important, while some things I didn't want fit me quite well.  I have become increasingly aware of how much God loves me and how He moves in and through me to do amazing things.  I have considered that just as His greatness is unsearchable (Psalm 145:3), if I abide in Him, there is no limit to the greatness I can find within myself as well.
Most of us would never think we have 'arrived' in our careers or dreams or love lives.  However, we tend to assume that at a certain age we will have reached the pinnacle of self-discovery.  We can become overconfident and fool ourselves into thinking that our souls and spirits have 'arrived.'   However, as long as we are alive, there is always more to learn and more to uncover.  There will always be a small detail that went undetected for months or years.  When we look deep within, we will always unearth a new attribute and find another flaw.  However, with each year of life, the negative discoveries should be fewer and less devastating.  The positive ones should be more thrilling and quickly embraced.
The time between 30 and today has taught me that self-discovery is a never-ending process.  Every day I should strive to know myself better than the day before.  With each finding, I reach another level of self-actualization.  With every discovery, another layer of my soul is peeled.  If I never abandon search of the endless depths of myself, I will consistently become stronger, wiser, and authentically me.
---
This post is part of The Layers of Self-Discovery Tour created by GG Renee of All the Many Layers.  Follow the tour through the blogs of 26 women exploring the complexities of womanhood and self-discovery from A to Z.  Click here to keep up with each post and enter to win a giveaway package full of goodies for your mind, body and soul.   #LayersAtoZTour