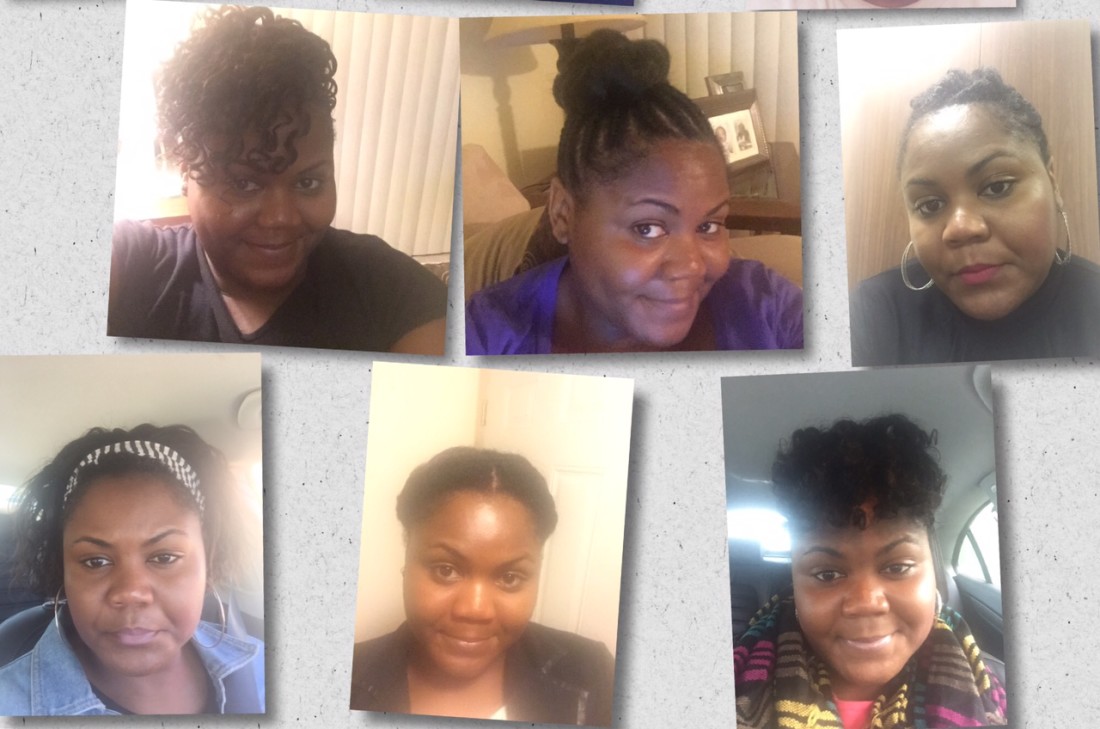 Beauty Shop Lessons in Faith: Transitions
October 26, 2015
As of Saturday, I am six months relaxer-free. Though I said I would never do it for fear of the upkeep of whatever curl pattern might lie beneath my permed hair, I am transitioning to natural.
How did I go from reluctance to acceptance? Well, I got tired of my relaxed hair. Tired of the same old wrap that I tried to change with highlights and bangs and switching my part from the left to the right. Tired of cutting it and growing it again to only realize I was back at square one. And once I got tired often enough, I made a change.
As the adage goes, a woman who changes her hair is about to change her life. I have been adjusting my life for about a year now, trying to move closer to one that will keep my 80-year-old self at peace. My hair is an obvious reflection of a subtle transition toward the life of my dreams.
This time of change has been a learning period. The natural hair lessons come more easily than the life revelations, but I now realize that the two journeys are quite similar. Here are a few things my hair transition is teaching me about changing my life:
It's called 'transition' for a reason. I occasionally wish I had the nerve to do a 'big chop' of all my permed hair and start afresh. However, my vanity worries how a teeny weeny afro would look on me. Transitioning lets me keep my length while phasing out the perm. Because it is the slower process, it feels like I'm not progressing and I become frustrated that my two hair textures mean I'm not 'natural' enough for certain styles nor 'straight' enough for others. However, one does not 'transition' overnight. Unless I'm bold enough for a 'big chop,' I have to accept the in between.
Lately I have been asking myself 'what are you doing with your life???' Just like that, real whiny and dramatic. Daily. But as much as I want to make a giant leap of faith into the deep end, as I said when I published my book, some of us wade. My personality and responsibilities require that I take my time. I am in the middle of the life of my doing and the one of my dreams, but I am transitioning nonetheless. The more patient I am with myself and the process, the happier I will be.
Uncertainty is certain. Confession: I don't know how I want my hair to look in the end. I might go for a wild, curly fro, or I might choose to loc it. I wanted to decide before I made a move, but I realized that was foolish. No matter which style I chose, I had to stop relaxing my hair first.
I wish I knew exactly how I want my life to look. I'm still weighing my options, considering the things I love and debating whether I can combine them all into one fabulous life. Despite my confusion, one thing is certain: I cannot continue with life as usual. So I have been trying new things and cutting out old ones, waiting to see where it leads.
Sometimes it's a mess. Though my hair has generally been cute for most of my transition, there have been some bad days. I tried a few styles that flopped and forced me to pull my hair into a nappy ponytail. I also had some cute styles not hold out nearly as long as I expected, with fly-away hairs messying up an otherwise cute look. But there is something freeing about not having every hair in place. Realizing I can't control everything takes the pressure off. When my hair has a mind of its own, if I just let it do its thing, trust that the mess is temporary, and ensure my face is cute, life goes on.
Sometimes my life is disheveled, too. It unfolds in ways that make me question my decisions. It looks a hot mess from all angles. It has some unruly issues that I cannot tame no matter how much I fuss over them. Yet when messes appear, if I let life do its thing, trust that the mess is not permanent, and keep my faith intact, it all works out.
I can't do it alone.  The reason I can say my hair has mostly been cute is because of the amount of time I spend in my hair dresser's chair. She has seen me more in the past six months than all of last year. Since I have no idea what I'm doing and don't want to have any unnecessarily ugly days, I see her often and put primary responsibility for this transition in her hands.
My life is no different. I am clueless as to how to create my dream life. So I consult the one who has been reshaping lives since the beginning of time. In fact, I should probably talk to Him more often and with more focus than I do. Rather than turning the wheels of my head trying to go it alone, I must allow Him to do the heavy lifting of this major transition.
Out with the old. One day as I talked hair with a naturalista, she said, "you're going to have to cut your hair." At some point I'll have to stop transitioning and complete the transformation. The two textures cannot coexist forever. I'll have to cut off what's left of the permed hair to let the natural locs flourish.
Eventually, I won't be able to cling to my current life and get a firm grip on the one I want. I will have to let go of the former in order to embrace the latter. In time, there must be a parting of ways.
I'm not becoming, I'm returning. I have been getting relaxers since I was a little girl, so my natural hair texture is foreign to me. I find myself touching it often, squeezing this spongey mass for no other reason than the need to reacquaint myself with God's plan. As new as it feels, it is as old as I am. It is from whence I came.
Any changes I make to my life are not the invention of a new Sheryl. I am returning to the person God created before the world shaped me to suit its needs. In moving forward toward a new life, I am backtracking to the original me.
What transitions are you making? Congratulations on getting good and tired! Embrace the process. See you on the other side.
Check out other Beauty Shop Lessons in Faith.