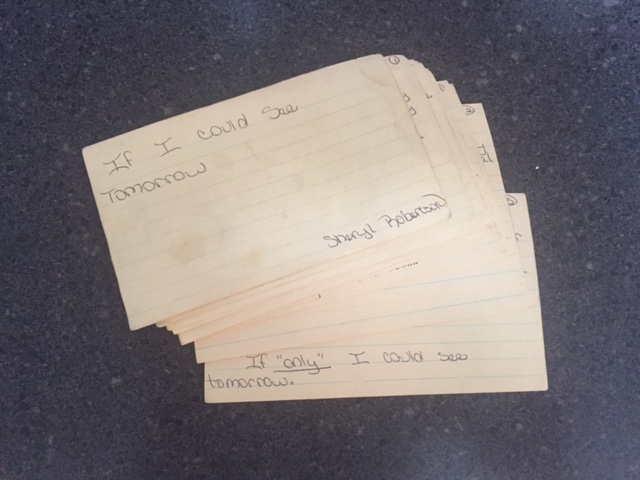 No Coincidence: Connecting the Dots between the Past and Future
September 7, 2016
One month after a major life change and one week before my biggest poetry performance to date, I had one of those rare life moments in which you are able to connect the dots between your past, present, and future.
The connections began in my parents' garage as I rummaged through an old box of memories and dreams. Most of the memories came in the way of photos of my friends and me in colorful, baggy jeans and asymmetrical haircuts or middle school yearbooks with handwritten messages from classmates.   However, one of the most exciting contents of the box doubled as both a memory and a dream.   It was a set of cream-colored index cards, each one containing a paragraph of text written in neat, adolescent penmanship. The title on the first card read, "If I Could See Tomorrow."
It was a speech I delivered during a middle school oratory contest. I don't remember what school club I joined that led me to write this five-minute speech. I don't recall whether this was my first speech or just the most memorable one. I don't remember the competition or process that carried me from my small town to the Lieutenant Governor's mansion. Yet looking through the index cards 20 years later, I could see that none of it was a coincidence.
This speech is where it all began. It merged my writing with public speaking.  It made me realize that I had something to say and that people both wanted and needed to hear it.  It taught me the power and persuasion of words.  It encouraged me to dream.
As I read through this old speech, I was tempted to critique it in the way that we do when we look back at an old piece of work.  However, rather than try to determine if it was worth all the hype it received at the time, I decided to revisit its message.  As might be expected, I explored the theme "If I Could See Tomorrow" by discussing all that I viewed as wrong with the world and how those problems would no longer exist in an ideal future.  Even in middle school, I was passionate about racism, the gender pay gap, a woman making it into the White House, gun violence, and pretty much any other social ill I could fit on those notecards.  Even then, I knew I wanted to be a writer, and apparently one with several best-sellers, a family, and a mansion in Atlanta.
While I have no present plans to reside in Atlanta, it is funny how what I wrote at that young age falls in line with my current hopes and dreams.  I am still outraged when people are treated unfairly.  I still care very deeply when lives are lost.  I still want to write books.  I still want a home filled with the laughter of a family.  I am still writing it all down and standing before people to share it.
In 2005, Apple co-founder Steve Jobs addressed the graduating class of Stanford University.  As he shared a story of the path his life had taken, Jobs discussed the importance of connecting the dots. "You cannot connect the dots looking forward; you can only connect them looking backwards. So you have to trust that the dots will somehow connect in your future.  You have to trust in something – your gut, destiny, life, karma, whatever.  Because believing that the dots will connect down the road will give you the confidence to follow your heart even when it leads you off the well-worn path; and that will make all the difference."
I have tried, many times, to connect the dots going forward.  I have been unsuccessful every time.  Yet from the time I drafted that old speech to the present moment in which I write this blog post, my trust has always been in God.  I have often wondered where He was leading me.  Sometimes I have taken it in stride, and other times I have gone kicking and screaming.  However, finding my old speech helped me to realize how He used my past to shape my present.  I was able to look back and connect the dots.
Sometimes in life, you find yourself questioning who you are and what you are doing.  You second-guess the choices you have made and worry about the decisions that lie ahead.  You feel like you're wandering down a path with no sense of direction or purpose.
It is in these moments that we need the memories that also double as dreams.  They remind us that we have always known who we are. They help us peel back the layers of external expectations that we have heaped upon that simple inner core.  They reassure us that there has been no coincidence on our life's path, that every move has had a purpose. They help us to realize that, in some ways, we are already living our childhood dreams.  They encourage us to keep pressing toward the dreams that seem just beyond our reach and they light a fire under the ones we have let grow cold. But more than anything, our memories that double as dreams are a promise that someday in the future, we will be able to look back yet again and connect the dots.